Students are finding blended learning at Mount Kenya University (MKU) an increasingly exciting and enriching experience.
The university's Directorate of Distance and Institution Based Learning (DIBL) is helping them sharpen their computer literacy skills, and is as well granting them greater access to the online portal. The technical support staff help students navigate the platform. DIBL Director, Prof Pamela Ochieng, confirmed last year that the university had embarked on increasing access to the student portal, targeting 100 percent by December 2017 from 75 percent. Since September 2017, the directorate has been implementing procedures and schedules on the training of staff and students on the use of the digital platform. "My vision as the director is to improve the quality of education offered, possibly through benchmarking and collaboration, both locally and internally," Prof Ochieng said.
The university created the DIBL Directorate in October 2016 to offer blended learning and distance education programmes. It serves students who are separated from their lecturers by time and space. The university ensures that the distance learning provision is of equal quality to classroom study in terms of teaching methods and scholarly rigour. This is in accordance with conventional provision to ensure satisfactory delivery of programmes and provision of support and assessment of students. MKU has put in place the necessary administrative, technical and ICT infrastructure to support digital and distance learning. The delivery modes include traditional distance education by correspondence courses, online provision and interactive CD ROMs, e-learning and blended learning to open learning centres, and face-to-face sessions.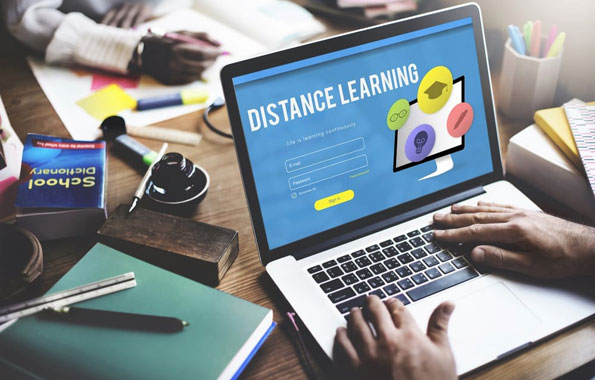 A significant element of flexibility, selfstudy and learning support is an integral part of this mode of delivery, which relies on a mix of multimedia technologies, such as e-learning, video conferencing, internet and print. E-learning technology creates web-based learning and virtual classrooms. Audio technologies entail the use of pre-recorded lectures and video conferencing. These technologies enhance interactive learning. Prof Ochieng says the learners should be equipped with modern ICT skills for the country to achieve the Vision 2030 goal of mainstreaming information technology in schools. It is embedded on the philosophy of education globally.
The MKU Directorate of DIBL aims to:
• Expand access to higher education;
Provide an alternative way of 2018 obtaining quality academic qualifications to those who cannot attend the face-to-face mode of learning;
Allow students to access education without changing areas of residence;
Reduce the cost of education;
Allow the university to offer teaching that is appropriate to the digital age;
Enable the university to build on its international reputation by recruiting students worldwide; and
Enrich students' perspectives and learning experiences.
Prof Ochieng notes that the DIBL has generally improved the teacher training programme in Kenya and globally. The programme includes teaching practice, which is carried out during the students' final session. The students are assessed by both the internal and the external examiners.
Mount Kenya University (MKU), in its quest to accommodate
the current and emerging trends in distance education, has broadened the scope
of its Open, Distance and Electronic Learning (ODEL) to include Distance
Learning (pure online) and Distance and Institutional Based Learning (DIBL).
The ODEL is responding to the growing interest in alternate approaches to
distance learning that have created a convergence of distance and on-site
study. These learning environments ensure students on site and students at a distance
have much the same learning experiences.
The university aims to enable thousands of professionals to
conveniently access higher education even as they attend to work and other
commitments, says ODEL Principal-designate Susan Nyokabi.
"With ODEL, we bring learning to the people. Anyone with an
electronic gadget that has internet connectivity – smart phone, computer,
laptop or tablet – should be able to access higher education," she asserts.
Last August 2017, the university beefed up the ODEL
directorate, which has since lined up several initiatives to enable many more
qualified students pursue higher education. The Distance and Institution-Based
Learning (DIBL) is a key component of ODEL. It is headed by Prof Pamela
Ochieng. DIBL directly supports the School of Education by training teachers
face-to-face during holidays and also online.
Thirty per cent of learning is through face to face and 70
per cent is via the online platform. Ms Nyokabi says the university is
equipping ODEL lecturers to facilitate video lectures, Skype and video
conferencing.
It is also improving its website to make it more
interactive so that students are able to apply, register, pay fees, communicate
with their lecturers and receive feedback more easily and effectively. "We aim
to minimize the need for students to visit our campuses to seek help when they
can be assisted online from wherever they are," Ms Nyokabi says. The university
uses the Sakai system, considered one of the best electronic learning
platforms. It is user-friendly.